The SD Card is the most critical part of your camera. Pictures are not only stored on the card, the camera utilizes the card to communicate with the server. It communicates with Moultrie Mobile every day when your camera is turned on and has sufficient battery life and signal. If it has been more than 24 hours since your camera connected to the server it will need to be restarted, and your SD Card will need to be re-formatted.
It is important to use a Moultrie Mobile recommended SD card for an optimal experience.
Moultrie Mobile Recommended SD Cards
4GB SDHC
8GB SDHC
16GB SDHC
32GB SDHC
Not Recommended
High-speed cards
Micro/mini cards
SDXC cards
Ultra capacity
Larger than 32GB


How To Format Your SD Card In Your Camera
Please be advised that formatting your SD Card will erase any pictures on the card that your camera may have taken since the last upload. To format your SD card follow the steps below:
Turn your camera ON.
Press and hold the FORMAT SD CARD button until the SD Card light blinks yellow, then release.
The SD Card light turns solid green once formatted successfully.
If the SD Card light turns solid red, repeat the process or try a different SD Card.
If successful the connection sequence will begin with all four lights coming on.
Allow roughly 60 seconds for the connection sequence to complete.
Once fully connected, all four lights will turn green briefly and then cycle off.
Your camera is now ready to take a photo.
Each time a picture is taken, the battery light quickly flashes green and the cycle begins again.
How To Format Your SD Card From The App
Please note, if your camera hasn't connected in more than 24 hours you will need to be with the camera in order to perform the steps above. If your camera IS checking in, then please see below on how to format your SD card remotely from the app:
Go to your camera settings and toggle the Format SD Card switch to green. The next time your camera connects it will receive the instructions and format your SD Card. When completed it will toggle itself off.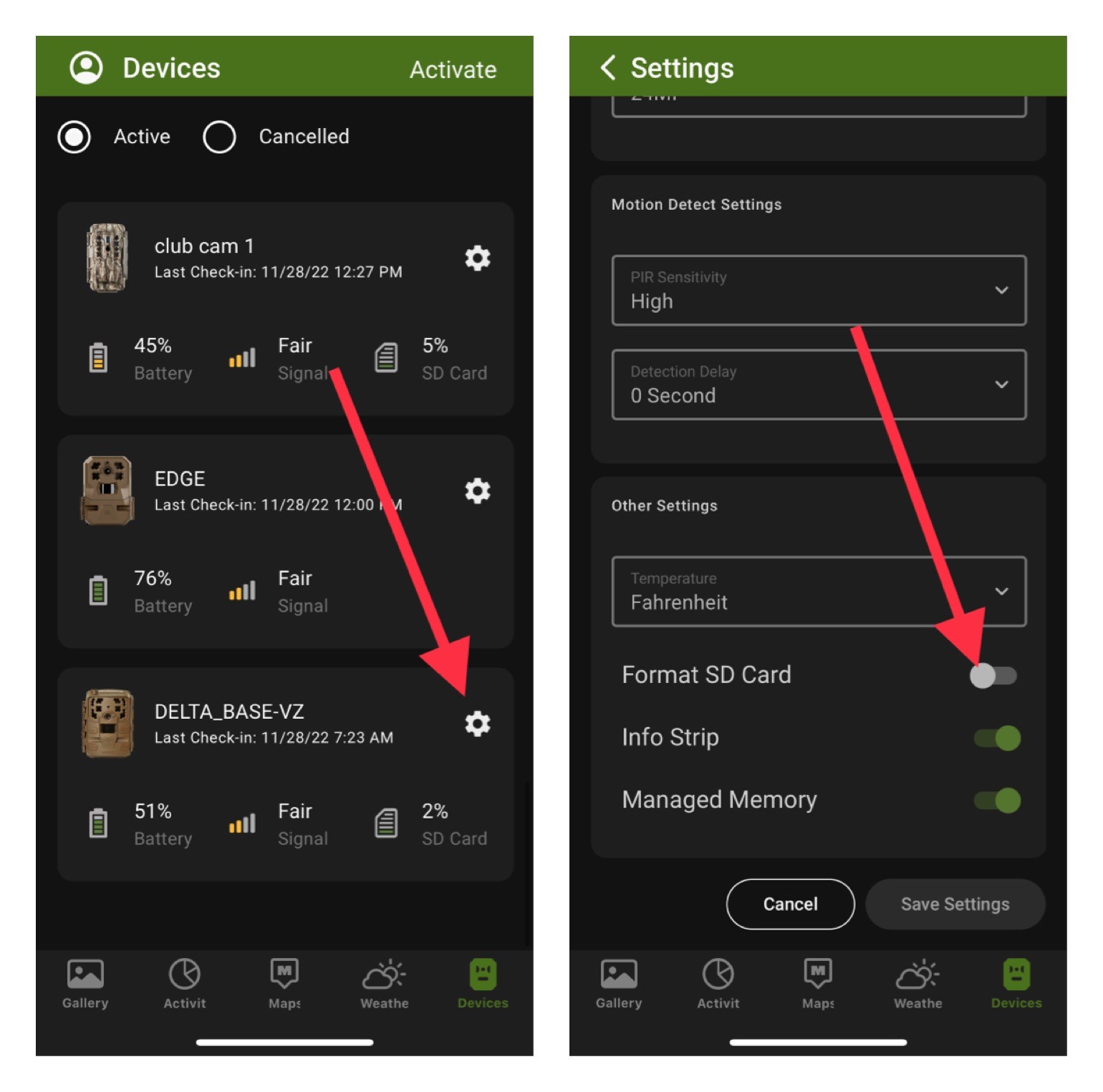 Still Need More Information? We're Here to Help! Use the link below to Contact Us.