Not receiving pictures? If you are on the Standard Plan, either monthly or annually, you may have exceeded your monthly allotment of 1000 pictures. See below for where to find the amount of pictures you have used this cycle and how to correct it.
From The App
1. Tap Devices, then tap the Settings Icon next to whichever camera has not been sending the photos.
2. Tap to expand Plan Info to see how many photos you have used. If you have reached your max it will read 1000/1000 pictures used.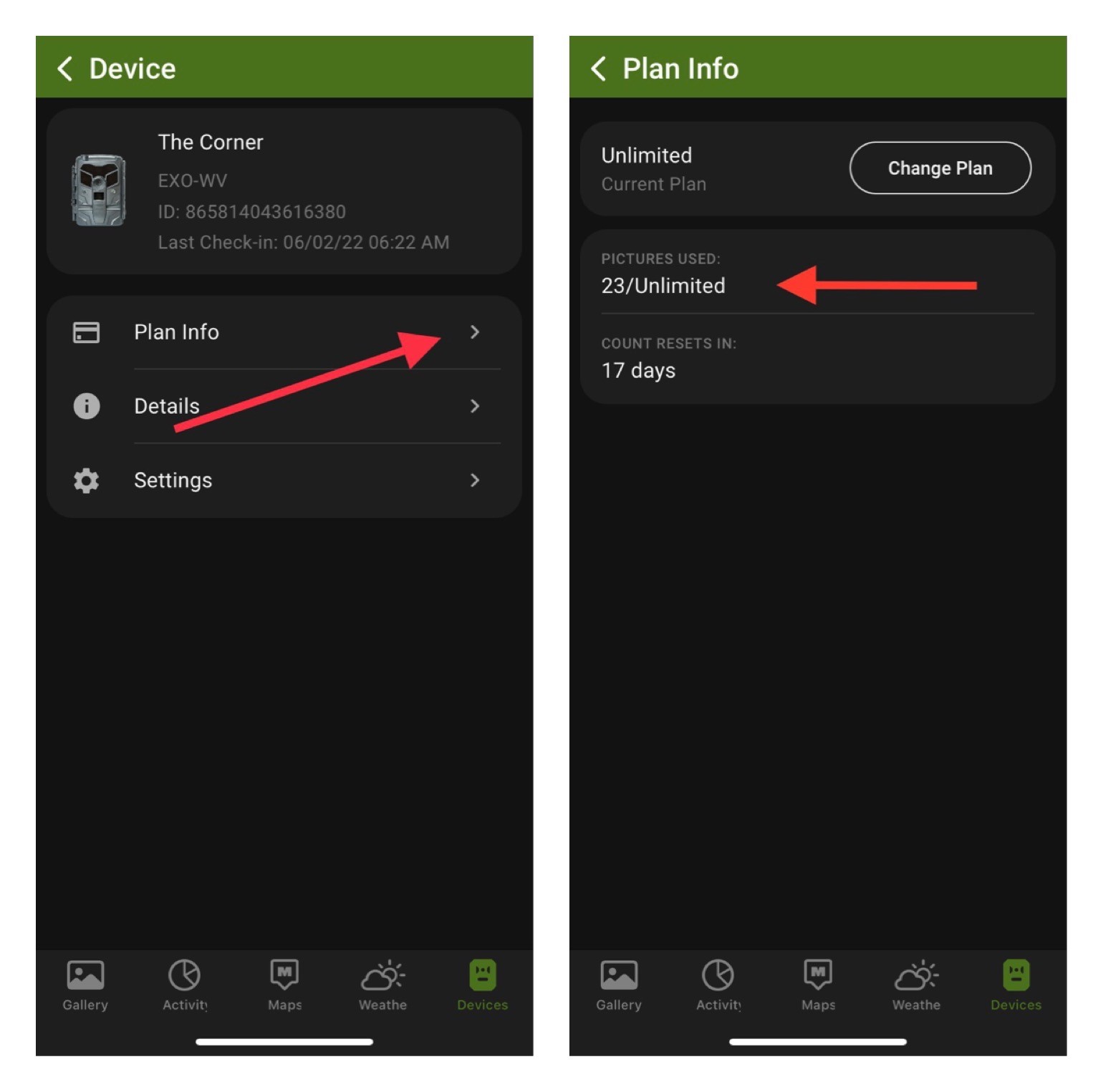 From The Website
1. Log in to moultriemobile.com using your email address and password.
2. Click on the Devices tab, then select View Cameras.
3. Expand the camera you are not receiving pictures from.
4. You will see the amount of photos used under Plan Information.

5. To Upgrade your plan, or buy more pictures, click Manage Plan and select Change Plan.
6. Upgrading your plan or purchasing additional pictures will take affect immediately. If your camera is connecting normally it will begin to upload everything it has taken since it maxed out.
Pro Tips:
When you max out your available data your camera will continue to take pictures whenever it is triggered and store them on the SD card or camera's internal memory.
When your plan renews and more pictures become available, your camera will then upload all the photos it has been storing.
Depending on how many pictures your camera has taken since it ran out of data, this may max out your plan again on the first day of the new cycle.
Here is some tips on how to prevent that:
If you are able to visit the camera you can shut the camera off to keep it from taking photos.
You can swap out SD cards at the camera with a recommended SD card a day or so before the cycle renews so there isn't too many stored pictures trying to upload on the first day of your new cycle. This way you get to keep the pictures on the original SD card and view them on a computer or SD card reader.
Still Need More Information? We're Here to Help! Use the link below to Contact Us.